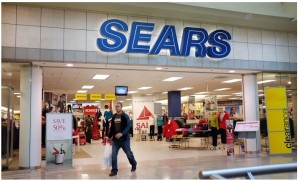 Right now new members to TopCashBack can score a $20 Sears Gift Card for $1! Visit Groupon through TopCashback, purchase a $20 Sears Gift Card for $10, enjoy FREE shipping and  $9 cash back from TopCashBack!  Your $20 voucher will be emailed to you by Groupon, valid for in-store only use in participating Sears stores between June 13 and August 31, 2014 (thereafter the voucher can still be used but the value will drop to $10) against apparel, footwear, fine jewelry and home products.  Within 30-90 days the $9 cashback should turn payable and can be credited straight to your checking or PayPal account. Alternatively you could opt to be paid in an Amazon .com Gift Card, which with its current 5% bonus on top (this will change to 2.5% soon) would mean you'd get $9.45 instead of $9 for an even better deal!
Here's how to score your Sears Gift Card:
Register or login at TopCashBack
Once you've registered you can go directly to the Groupon Sears Gift Card offer.
Click the orange "Get Cashback" button to open the Lowe's shopping page (you may have to scroll down to find it).
Check out the Groupon offer and click the green "Buy" button.
You'll be prompted to sign in or register with Groupon.
Proceed through checkout and complete order.
Your TopCashBack rebate of $9 will turn payable and can be credited straight to your checking or PayPal account within 60-90 days.
Be sure to share this deal with friends and family – TopCashBack doesn't limit accounts to one per household -so now's a great time to have your spouse, room mate or neighbor (or anyone else!) about TopCashBack.
Use your Tell-A-Friend Link when you share this deal with friends and family and you'll earn $10 for each new TopCashBack member who takes out this deal too!
Top CashBack is a loyalty program that offers cash back to you for your online purchases. Why not give it a try today?!
IMPORTANT: Transactions must only contain one $20 Sears voucher priced at $10 to ensure $9 cashback is credited to TopCashback accounts. If another deal is purchased or additional deals are purchased at the same time, the cashback amount awarded will be 16% or less (depending on the day of purchase and item(s) purchased) instead of $9. This promotion is subject to availability. Groupon may close the deal at any time. This TopCashback $20 Sears offer is available until 23:59 PT on Tuesday, June 17, 2014 or when Groupon closes the deal; whichever is the sooner; while it's priced at $10 (if the price changes, the deal closes); to new TopCashback members only. This is defined as someone who hasn't ever made a transaction through TopCashback.com, regardless of whether they have already created a TopCashback account or not. If an existing member is found to have created more than one account, TopCashback reserves the right to terminate their accounts and withhold all cashback earnings; to new, current or past Groupon customers; for online sales only, for purchases made directly after clicking through TopCashback.com. Only one $20 Sears voucher is allowed per TopCashback account, and only one TopCashback account is permitted per member.