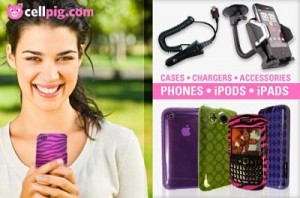 Today on Eversave you can purchase up to three $14 CellPig vouchers for just $7 each. Plus new Eversave members will receive an instant $3 credit making your final price just $4!
CellPig carries a wide range of protective cell phone cases, chargers and other accessories, and shipping is always FREE!
Here's how to score this deal:
Make your purchase — your total should be just $7 if you're an existing member or $4 if you're a new member!
You'll receive your CellPig voucher immediately.
May buy up to 3 Saves. Use one Save per purchase at www.CellPig.com. Save is valid sitewide at www.CellPig.com, however, it cannot be combined with other coupon codes. Free shipping is included. Code available immediately after purchase on Eversave. Promotional value expires on Aug 31, 2012.