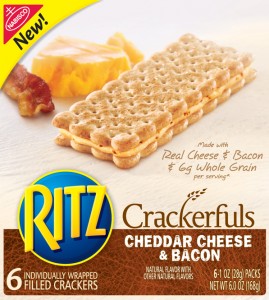 Remember those orange crackers with the cheese filling that were a lunchtime staple as a child? Orange crackers just don't hold the same appeal these days, but think of Ritz Crackerfuls as the adult version. Not only are they a tasty afternoon snack, but at just 130 calories with 6 grams of whole grains, they won't wreck your diet — as long as you limit yourself to just one. Trust me, this could be difficult!
But one of the best things about new Ritz Crackerfuls is the convenient portability. Each Crackerful is individually wrapped so you can toss them in your purse, diaper bag, wherever, and you'll have a satisfying snack right at your fingertips when those afternoon hunger pangs hit.
My favorite variety is the Classic Cheddar, but Ritz Crackerfuls also come in Garlic Herb, Four Cheese, and the newest Cheddar Cheese & Bacon, all made with real cheese! Print a $1/1 Ritz Crackerfuls Cheddar Cheese & Bacon coupon from their Facebook page right now. This coupon is good through August 31st, but the number of prints is limited, so print yours to score a deal now!
This is a Sponsored Post written by me on behalf of Nabisco and One2One Network. All opinions are 100% mine.