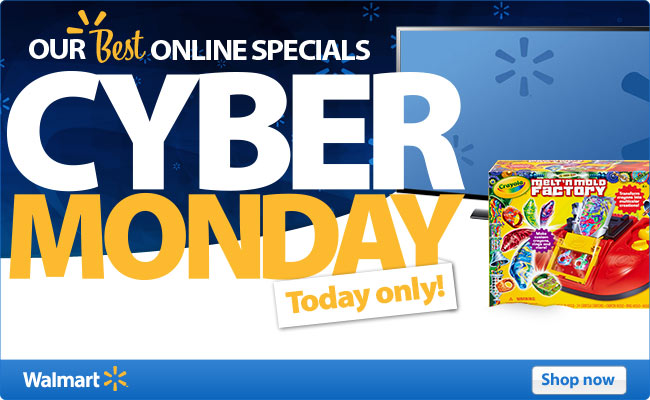 Black Friday is officially in the books. Did you get everything you wanted to pick up?
No? Well, there's always Cyber Monday, and you can shop right from the comfort of your own home. In fact, Walmart is kicking off the festivities a full two days early with 200 early online specials and keeping them going for the entire week, so you can check out their website for some pretty fantastic deals right now!
Does $150 off a 32GB iPad bundle or just $50 for a Nextbook 7-inch tablet grab your attention? Here are some more specials to look for on Cyber Monday:
LG 55-inch 3D LED TV with Soundbar Bundle – $799 ($500 savings)
Samsung 46-inch LED TV – $478 ($400 savings)
LeapFrog LeapPad2 Crayola Creativity Pack Bundle – $69 ($60 savings)
Doublepower 7-inch Tablet – $59 ($20 savings)
HP Sleekbook Ruby Red 14-inch Pavilion Laptop PC – $295 ($133 savings)
Fisher Price Powered Ride-on Minnie Mouse Jeep – $189 ($60 savings)
Disney Princess Ultimate Dream Castle – $119 ($60 savings)
Crayola Melt-n-Mold – $22 ($32 savings)
PlayStation 4 bundle with Dualshock 4 controller and game – $517 (special buy)
Xbox One bundle with choice of a game or accessory – $559 (special buy)
Download the Walmart mobile app, become a Facebook fan, or subscribe to their emails to be among the first to receive an invitation to an early shopping event on Sunday, December 1st. This event will feature 20 of the best #CyberMonday items while supplies last, before they are widely available!
New this year is a reduced minimum order amount to receive FREE shipping. Nearly all Walmart.com items (and half of Marketplace items) are eligible for free shipping on orders over $35! Plus you can upgrade to a faster 2-5 day option for just $2.97. Also, look for select Cyber specials that you can order online and pick up at your local store the same day!