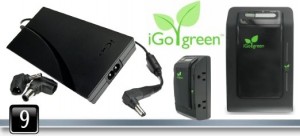 Each year Vampire Power, the energy drawn from devices that are plugged in but are not in use, wastes 10 billion dollars in the U.S. alone. iGo would like to help fathers everywhere go green and save green with their line of iGo Green electronics, which reduces Vampire Power by up to 85 percent.
Plus, iGo products also use an intelligent tip technology, which allows one charger to power/charge hundreds of brands and thousands of models of mobile electronic devices by using interchangeable tips. By using one charger for multiple products, it significantly minimizes electronic waste.
While I wasn't able to try the iGo Green laptop charger personally (it's not compatible with Macs), I really love the concept of being able to save on wasted standby power. I was able to try the wall plugin with this technology though, and I love the fact that it basically deactivates two outlets unless it detects that power is needed. This eliminates the need for power strips or manually unplugging items not in use to control vampire energyI hope that more companies adopt this technology to save on wasted energy!
One (1) lucky reader will win an iGo Green Power Pack valued at $100, including:
iGo Green bag with a Vampire Power Sucks t-shirt and garlic stress ball to keep those vampires away
Entry is simple! You just need to answer the question below by leaving a comment on this site! You can even gain up to 3 bonus entries for doing each additional item listed (just make sure that you leave one entry for each one — up to a total of 4 comments). As a reminder, comments left on Facebook, Twitter or other posts will not be included.
REQUIRED ENTRY:
Visit iGo and choose which product you like best. Leave a comment on this post.
BONUS ENTRIES:
1. Follow Deal Seeking Mom on a reader or via e-mail updates and leave a comment on this post.
2. Follow Deal Seeking Mom on Facebook or Twitter and leave a comment on this post.
3. Follow iGo on Facebook and leave a comment on this post.
This giveaway will remain open until 11:59 p.m. EST, Friday, May 27th. Any comments left after this cut-off will not be counted. The winner will be selected randomly and will be notified via email within 48 hours after the close of the contest.
This giveaway is part of the Grateful Giveaways Event being hosted by myself and 11 other bloggers. You can increase your chances of winning one of 12 prizes, by visiting each of them and entering the same way as you did here. You have plenty of time to get to all of them, since the contest will be open for five full days.
EACH of the 12 participating blogs has their own prizes to give away so make sure to enter on each blog for the best chances to win! Use this spreadsheet to keep track of your entries!
As one final reminder, you will want to check out the terms of the giveaway by visiting the Grateful Giveaways: Celebrating a Season of Giving Facebook page. Just click on the TERMS tab at the top of the page. (Note that by entering this contest, you agree that you have read the terms and are eligible to enter this contest).
Disclosure: I received the same gift package that the winner will be receiving to facilitate my review. I did not receive any compensation to write this post. The opinions are all mine!