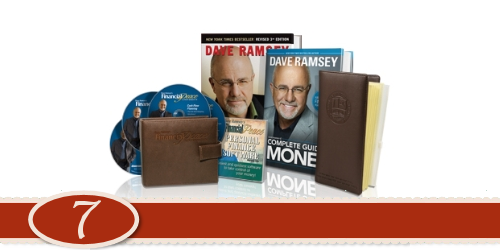 Take control of your finances in the New Year with this amazing package of books, CDs and tools from Dave Ramsey:
Dave Ramsey has been helping people climb out of debt and eliminate financial stress since 1992, and he offers tons of books, classes and free resources at DaveRamsey.com.
If you're just getting started with Dave's principles, the Starter Special Bundle is a great way to get immersed in the essentials that will transform everything you do from here out. Dave covers his Baby Step plan in-depth, shares testimonies, and teaches you how to set up a cash flow plan and pay off your debt in a way that really works.
With the Starter Special, you'll gain the knowledge and the motivation to:
Develop a plan to eliminate your debt quickly
Learn to live on less than you make
Take control of your spending using Dave's cash envelope system
Create a budget that works for you (and one you can stick to it)
The Starter Special includes:
The Total Money Makeover book — Get started with Dave's simple step-by-step plan condensed into 7 organized, easy-to-follow steps that will lead you out of debt and into a Total Money Makeover.
The Complete Guide to Money book — If you're looking for practical information to answer all your "How?", "What?", and "Why?" questions about money, this book – which is the official handbook for Financial Peace University — is for you.
13 audio lessons on CD — Listen as Dave covers virtually everything he teaches on getting out of debt, saving for the future, buying a home, investing, college, and more.
Starter envelope system — Use the cash envelope system to manage your household income and expenses, and avoid spending more than you earn!
Budgeting software — Dave's budgeting software offers a simple and easy way to manage your budget.
In addition, at MyTotalMoneyMakeover.com, you'll find tools for budgeting, a community of encouragement and support from other people, and access to the last 30 days of The Dave Ramsey Show. It's the second-most powerful weapon you can find to get out of debt!
Follow Dave Ramsey on Facebook and Twitter to join the conversation!
One lucky Deal Seeking Mom reader will win Dave's Starter Special (including all of the products listed above) plus a 6-month subscription to TotalMoneyMakeover.com!
Entry is simple – just fill out the form below. As a reminder, comments left on Facebook, Twitter or other posts will not be counted.
This giveaway will remain open until 11:59 p.m. EST, Monday, 12/10. Any entries submitted after this cut-off will not be counted. Information collected will be used solely for selecting winners and mailing prizes and will not be shared or sold for any other purpose. Winners will be selected randomly and will be notified via email within 48 hours after the close of the contest.
This giveaway is part of the Grateful Giveaways: Holiday Event being hosted by myself and 11 other bloggers. You can increase your chances of winning this prize (as well as all of the others on this site), by visiting each of them and entering the same way as you did here. You have plenty of time to get to all of them, since the contest will be open for five full days.
If you haven't already done so, you might want to print out this spreadsheet to help guide you through all of the entries on all of the blogs.
As one final reminder, you will want to check out the terms of the giveaway by visiting the Grateful Giveaways: Holiday Facebook page. Just click on the Terms tab at the top of the page. (Note that by entering this contest, you agree that you have read the terms and are eligible to enter this contest).
Disclosure: I received the same gift package that the winner will be receiving to facilitate my review. I did not receive any compensation to write this post, but there may be affiliate links that benefit me financially. Either way, the opinions are all mine!