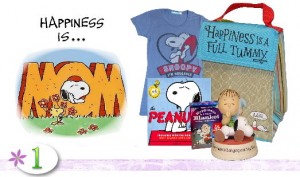 Happiness is … starting off today's awesome giveaways with Snoopy and the Gang!! This one will be sure to put a smile on the face any Snoopy or Peanuts fan … or anyone who has fond memories of the saying, "Good Grief Charlie Brown"!
The Peanuts comic strip by Charles Schulz that began in 1950 and lasted for 50 years, went way beyond the newspaper. Snoopy has become one of the most beloved comic strip characters, along with Charlie Brown and the whole gang of Peanuts characters. Holiday TV Specials such as A Charlie Brown Christmas and It's the Great Pumpkin, Charlie Brown have become timeless classics, and must-see shows during holiday time, and they continue to delight each year.
Also- be sure to check out Peanuts.com … a wonderful collection of everything from Vintage Snoopy to current Peanuts Gang happenings. This comic strip that has warmed the hearts of so many children and grown ups alike, continues to do so today.
What more can you say about The Peanuts? I grew up watching the Charlie Brown holiday specials every year growing up, and it's a tradition that I now get to share with my own kids. I love that they look forward to them as much as I do!
We watched the new Happiness is a Warm Blanket, Charlie Brown DVD last night as a family, and it was absolutely adorable. And the coffee table book is absolutely amazing. There are so many little surprised tucked in it — my kids have spent hours paging through it.
Peanuts Worldwide is giving, one lucky Deal Seeking Mom reader will win a prize package that includes The Peanuts Collection Coffee Table Book, a Hallmark Happiness is Hanging Out Together Figurine, a Hallmark Happiness is a Full Tummy Lunch Bag, Snoopy t-shirt and a Blue-Ray/DVD called Happiness is a Warm Blanket, Charlie Brown.
Entry is simple! You just need to answer the question below by leaving a comment on this site! You can even gain up to 3 bonus entries for doing each additional item listed (just make sure that you leave one entry for each one — up to a total of 4 comments.) As a reminder, comments left on Facebook, Twitter or other posts will not be included.
REQUIRED ENTRY:
1. Share your Peanuts favorite memory; be it a comic strip, character or even a scene from one of the classic holiday cartoons.
BONUS ENTRIES:
1. Follow Deal Seeking Mom on a reader or via e-mail updates and leave a comment on this post.
2. Follow Deal Seeking Mom through Facebook or Twitter and leave a comment on this post.
3. Go to the FAQ page on Peanuts and then come back and leave a comment sharing something new that you learned about the Peanuts Gang Comic Strip.

This giveaway will remain open until 11:59 p.m. EST, Friday, April 29th. Any comments left after this cut-off will not be counted. The winner will be selected randomly and will be notified via email within 48 hours after the close of the contest.
This giveaway is part of the Grateful Giveaways Event being hosted by myself and 11 other bloggers. You can increase your chances of winning this prize (as well as all of the others on this site), by visiting each of them and entering the same way as you did here. You have plenty of time to get to all of them, since the contest will be open for five full days.
EACH of the 12 participating blogs has their own prizes to give away so make sure to enter on each blog for the best chances to win! Use this spreadsheet to keep track of your entries!
As one final reminder, you will want to check out the terms of the giveaway by visiting the Grateful Giveaways: Celebrating a Season of Giving Facebook page. Just click on the TERMS tab at the top of the page. (Note that by entering this contest, you agree that you have read the terms and are eligible to enter this contest).
Disclosure: I received the same gift package that the winner will be receiving to facilitate my review. I did not receive any compensation to write this post. The opinions are all mine!