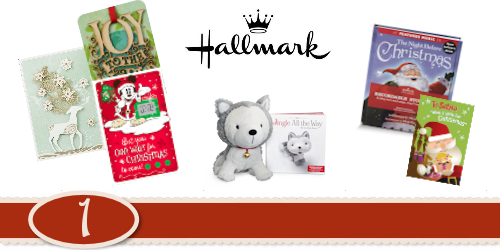 To kick off the holiday season, I'm excited to bring you 15 amazing giveaways as part of this year's Grateful Giveaways: Holiday Event. Up first we have a fun prize pack from Hallmark:
For more than 100 years, Hallmark has been helping us send well-wishes through greeting cards and ornaments, and they've truly become a household name through their Hallmark Gold Crown Stores, the Hallmark Hall of Fame and Hallmark Channel and more.
This holiday season, Hallmark's offering even more ways for friends and family to stay connected and celebrate the season:
Hallmark Interactive Storybuddies
Hallmark Interactive Storybooks and Storybuddies bring story time to life and let families escape on magical adventures together. The plush Story Buddies chime in — barking, talking or singing — when key phrases are read aloud.
Hallmark Recordable Storybooks
With the Recordable Storybooks, you can record a story for loved ones no matter where you are this season – it's great for relatives who live across the miles from a special child in their lives. The 2012 Hallmark Recordable Storybook collection continues to bring the magic of holiday story time to life. This year's collection features seven holiday titles — including three new titles — that let families participate in holiday story time with loved ones even if distance causes them to be apart.
Hallmark Interactive Greetings
Build the excitement of the season with interactive cards that feature countdowns, recordable wish lists and more. With these interactive and innovative greeting cards, you can tell loved ones what they need to hear at Christmastime while giving a keepsake that can be admired for years to come.
This collection of holiday cards is truly unique, just like a signature. Exquisite textures, premium quality paper and relevant messages help Hallmark Signature Collection cards become holiday favorites that will adorn mantles and be appreciated for several seasons. Many cards also feature fun embellishments such as removable ornaments and more.
Follow Hallmark on Facebook and Twitter for product news, special offers and daily inspiration!
One lucky Deal Seeking Mom reader will win a Hallmark Prize Pack including (1) Holiday Recordable Storybook, (6) interactive and signature greeting cards and (1) Interactive Storybuddy 1.0!
Entry is simple – just fill out the form below. As a reminder, comments left on Facebook, Twitter or other posts will not be counted.
This giveaway will remain open until 11:59 p.m. EST, Monday, 12/10. Any entries submitted after this cut-off will not be counted. Information collected will be used solely for selecting winners and mailing prizes and will not be shared or sold for any other purpose. Winners will be selected randomly and will be notified via email within 48 hours after the close of the contest.
This giveaway is part of the Grateful Giveaways: Holiday Event being hosted by myself and 11 other bloggers. You can increase your chances of winning this prize (as well as all of the others on this site), by visiting each of them and entering the same way as you did here. You have plenty of time to get to all of them, since the contest will be open for five full days.
If you haven't already done so, you might want to print out this spreadsheet to help guide you through all of the entries on all of the blogs.
As one final reminder, you will want to check out the terms of the giveaway by visiting the Grateful Giveaways: Holiday Facebook page. Just click on the Terms tab at the top of the page. (Note that by entering this contest, you agree that you have read the terms and are eligible to enter this contest).
Disclosure: I received the same gift package that the winner will be receiving to facilitate my review. I did not receive any compensation to write this post, but there may be affiliate links that benefit me financially. Either way, the opinions are all mine!