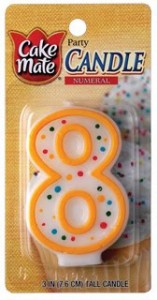 The $0.50/1 Cake Mate Numeral Candle printable is available again. These are priced at around $0.99, so you can get one FREE after coupon if your store doubles.
Cake Mate Numeral Birthday Candle, $0.99
$0.50/1 Cake Mate Candle printable
FREE after doubled coupon!
Have your printer ready because the coupon will print immediately upon clicking the link. You can print this coupon twice, so that's two FREE birthday candles!
Thanks, EEEndeavors!