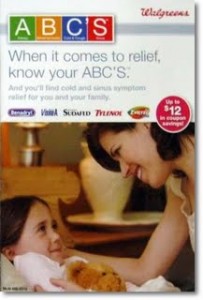 Yes, there's yet one more Walgreens coupon booklet that you'll want to be on the lookout for at your local store called ABC's: When It Comes to Relief Know Your ABC's.
This particular booklet contains manufacturer's coupons with some great cold and flu savings!
$1/1 Benadryl Allergy
$1/1 Benadryl Cream, Gel or Spray product
$1/1 Children's Benadryl
$2/1 Children's Zyrtec
$2/1 Sudafed
$1/1 Tylenol Cold or Sinus product
$2/1 Visine
$2/1 Zyrtec (12-ct.+) or Itchy Eye Drops
Expires 06/01/10.