PINCHme FREE Sample Tuesday is coming up next week — mark your calendars for Tuesday August 11th at 12pm EST! Are you ready to claim your FREE samples?
Preparing for PINCHme Sample Tuesday
To score the best samples, you have to be pretty quick on the draw… If you haven't already registered to become a Pincher, I recommend taking a few minutes to do so now. If you have a few more minutes, be sure to answer the Member Profile Surveys so that PINCHme can offer you the best selection of samples suited to you!
Once you receive your samples, don't forget to head back to the PinchME site to leave feedback on your freebies! I'm not certain, but I would have to guess that leaving feedback increases your chances of having access to the really good samples.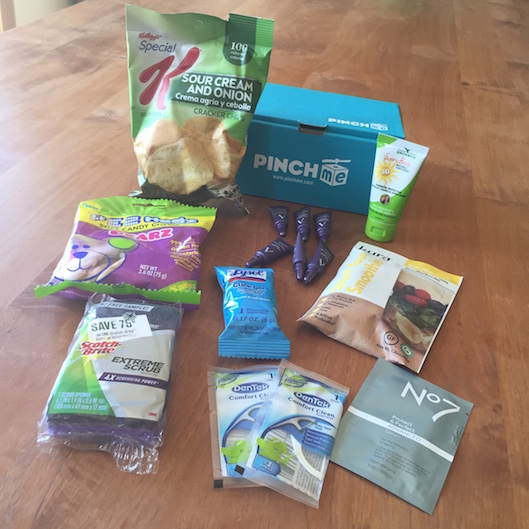 Want a little sneak peek at the samples that you could see available on Tuesday?! I received a small PinchMe preview box the other day — here's what was in it:
Kura New Zealand Vanilla Protein Smoothie Powder — I'm SO looking forward to trying this in my next smoothie! GMO-free and featuring grass-fed dairy and probiotics, it sounds like a fantastic addition.
Special K Sour Cream and Onion Cracker Chips — at just 100 calories per serving, these chips are surprisingly satisfying when you're in the mood for something crunchy.
Lysol Click Gel Automatic Toilet Bowl Cleaner — we use a similar product regularly, so I'm interested to see how this one stacks up against it when it needs replaced!
Scotch Brite Extreme Scrub Sponge — we don't use sponges a ton, but this sample came in very handy for a particularly stuck on mess in the kitchen! Comes with a $0.75 off your next purchase coupon in the package.
DenTek Comfort Clean Floss Picks — these are so great to carry in your purse for little emergencies, and there's a $1 off any $2+ purchase coupon on the back to pick up more!
Boots No. 7 Protect & Perfect Advanced Serum — I haven't tried this one yet, but I'm a big fan of Boots' products in general, so I'm really excited to use it!
Goddess Garden Organics Sunny Body Natural Sunscreen — I'm always happy to get small sunscreen samples, because we keep them in our kids' soccer bags, but I'm especially looking forward to trying this all natural, organic formula!
Vbeaute Buying Time Everyday Creme & Eye Never Eye Creme — these are fairly small samples, but I got three of each so I can probably get about a week's worth of trial time from them!
Pez Hedz Bearz Soft Candy Chews — my kids went nuts over these sweet & sour gummy candies!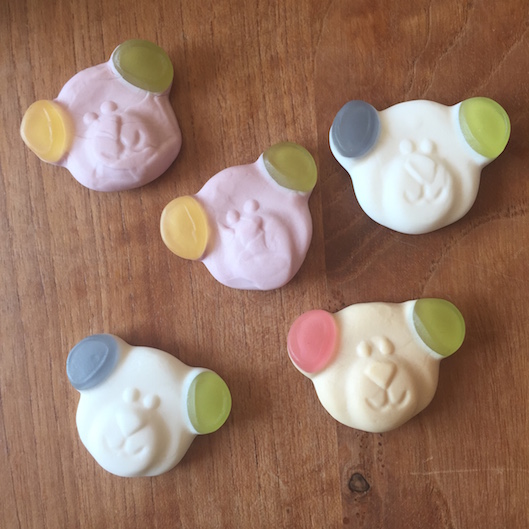 I think I'm most excited about the smoothie powder, and my kids were definitely all about the Pez chews, but this was a fun assortment of products overall. Which one would you like to see available for you to request next week?
Disclosure: I received a box of free samples from PINCHme to facilitate this post. All opinions are my own.