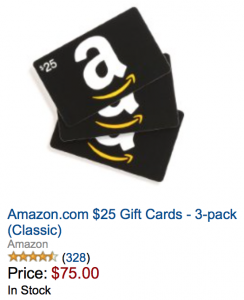 This deal is simply too good to pass up… Buy any Amazon gift card multipack, and you'll score a $10 Amazon credit on your Prime account today! Just use code PRIMEGCS at checkout.
The gift cards ship overnight and can be redeemed to your Amazon account, so why not? If you shop Amazon frequently (like I'm assuming most of you do), that's like earning a $10 return in under 24 hours! The smaller denominations are selling out quickly, so don't wait on this fab offer…
If you're not a member, try Prime (30-day FREE trial!) right now to get immediate access to deals! Then check out the Amazon Prime Day master list to see my fave offers.