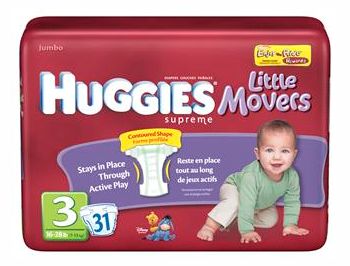 If you live in an area with the Rite Aid Up+ Rewards program (which appears to be regional), there's a great deal on Huggies diapers available this week at Rite Aid:
Suggested Scenario

Buy (3) Huggies diapers $8.99 ea.
Save $11.99 +UP Reward OYNO wyb 3 Huggies Items
Use (3) $3/1 Huggies Little Movers or Little Snugglers Diapers printable OR
Use (3) $3/1 Huggies Snug & Dry Diapers printable (or any combination of 3)
Use $5/$25 Rite Aid printable – change zip code radius to 50 miles
$0.33 ea. after coupons and reward!
**the +UP reward will print out on the bottom of your receipt
If you qualify for the Up+ deal, you will know because there will be a sign by the Huggies diapers that states, "Buy any 3 Huggies Items, Get a $11.99 Up+ Reward."  You also must use your Wellness card.
Even if you don't live in an Up+ Rewards area, you will only pay $4.32 ea!
Plus, the 3 packs of diapers count toward SCR #800 where you get a coupon for a FREE pack of Huggies diapers wyb (5) Huggies diapers between 4/25/10 and 7/24/10 (Limit 1).
Thanks Stylish Saving!
Corrie from "Cents"Able Momma is the Deal Seeking Mom Store Expert for Rite Aid. At "Cents"Able Momma, she helps others be "able" to save their "cents" by sharing great deals, coupons, freebies, money saving tips, and even a few methods to earn a little extra money.