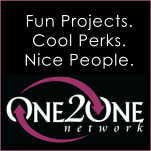 Seriously, if you haven't joined One2One Network yet, you're totally missing out! If you haven't heard of them, they're a word of mouth marketing network run by some really awesome women. In fact, they just hired one of my really good friends Arianne Segerman (also a new Elevenmom!) of To Think is to Create as their Director of Community Development, so you know they've got great taste!
I've been involved with a lot of really fun and exciting campaigns with them, and it's not just for bloggers. They're looking for anyone that enjoys trying new products and spreading the word about them. If you're interested in joining, you can register here, and be sure to mention my name (Tara Kuczykowski) in the referral box so they know I sent you!
You can find the full details on their FAQs page.