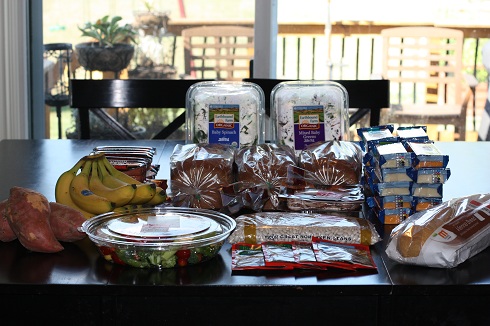 I headed to Meijer this afternoon to take advantage of the Kraft Cheese deal and picked up some other bargains while I was there. I went through the U-scan to get the Kraft Cheese, and it worked perfectly! I didn't even need a cashier to come over to approve the $5 off coupon.
Here's what I scored with coupons:
20 Assorted Kraft Chunk Cheese — used (4) $5/5 Kraft Product coupons in 2 transactions, $0.16 ea.
3 loaves Arnold Wheat Bread — used (3) $1 off coupons, $0.89 ea.
4 Ball Park Franks — used (4) $2/1 Ball Park coupons (no longer avail.), $0.50 ea.
4 packets Simply Asia Seasoning — used $0.50/1 Simply Asia coupon, FREE.
2 packages Earthbound Farm Organic Lettuce — used (2) $0.75/1 Earthbound coupons, $1 ea.
Some nice markdowns I found:
Meijer Vienna Bread, was$1.89, now $1.13
Rostello Roasted Chicken Breast, was $2.99, paid$2.39
Meijer Northern Beans, was $2.69, now $1.34
Meijer Garden Frenzy (squash, peas, carrots, broccoli, etc. medley), was $5.20, now $3.12
Additional produce:
All together I spent $12.08 plus tax after coupons and Catalinas, a savings of $86.29! It's pretty amazing to think that a non-coupon user might walk into the same store and pay $98.37 for those very same items.
Check out the Meijer deals for this week for more savings!