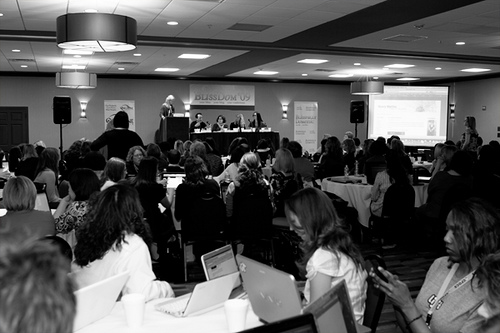 Photo by Secret-Agent-Mama
So you missed out on the fabulousness that was BlissDom '09?  Mom 2.0 Summit came and went a couple of weeks ago while you sat at home?  With BlogHer '09 on the horizon as the next big women's blogging conference, perhaps you're starting to formulate a plan on how you might actually attend one of these events that are key networking opportunities.
If finding the funds to attend one of these conferences in your already-stretched-thin budget these days is an impossibility, let's look at another option: conference sponsorship.  Having a company sponsor your attendance at a conference is a win for both you.  You get to attend without incurring much in the way of costs out of pocket, and you're providing additional valuable and targeted exposure to a key demographic that many companies are looking to hone in on.
You're probably thinking, "That sounds fantastic, but I haven't the faintest idea where to even begin looking for a company to sponsor me."  The reality is if you've been blogging for any length of time, you probably have several prospects buried in your email inbox, but let's start at the beginning.
Create a Media Kit for Your Blog
If you don't have a media kit for your site, you're missing an important tool for promoting yourself.  A good media kit will include such key elements as:
An overview of your site
Traffic metrics
Social media footprint
Ad formats and pricing
Policies pertaining to ads, reviews, and giveaways
Mandi at OrganizingYourWay.net has a fabulous comprehensive media kit template available to guide you in creating this document.
Choose a Conference and Estimate the Costs
Determine which conference would benefit you the most, and start pricing out how much it would cost for you to attend.  You'll want to include conference registration fees, hotel accommodations, and travel expenses for sure.  You might also consider including a per diem for meals and incidentals, but you'd be wise to look at this cost as negotiable.  Once you have a firm grasp on the costs for attending, it's time to look at companies to target.
Select Companies to Target
Now is the time to dig through your email to suss out all the companies you've worked with previously either directly or indirectly through PR contacts.  Think about contacts you've made on Twitter or Facebook.  Choose the top three or four that you feel are the best fit for your niche and, most importantly, that you would be able to promote enthusiastically.
Brainstorm on Benefits and Ways to Promote
Now that you have three or four companies to target, first consider what benefits you have to offer them.  Just a few questions to ask yourself:
What makes you a unique fit for their company?
How would connecting with your audience benefit them?
Will their competitors be in attendance?
And how will you promote the company that sponsors you?  A few suggestions:
Give them ad placement on your blog.
Write a blog post or posts featuring them before and after the event.
Live Tweet the event mentioning the company occasionally.
Pass out samples or other media.
Wear clothing with their logo.
This is by no means an exhaustive list.  Get creative and really put yourself out there, but leave it open ended for suggestions coming back from the sponsor as well.
Write Your Proposal
Using the information you just brainstormed, write a proposal letter to email each company along with your media kit.  Include important information about the conference, the benefits you brainstormed and why your blog is a good fit for them, your proposed costs for sponsorship, and what those costs will garner them in the way of promotion at the event.  I've created a sample proposal letter to give you a starting point, but you'll definitely want to completely rewrite it to make it your own.  Companies will start to notice if they get three or four proposals that are nearly identical.
Now take a deep breath, attach your media kit, and send the email. If you really want to stand out and have a good relationship, you may even want to follow up with a phone call after sending.  Be prepared for a lot of questions, and keep in mind that you may ultimately have to accept less than a full sponsorship in this tight economy.  You might even consider accepting more than one sponsorship, but full disclosure to all company involved is crucial to ensure that there are no conflicts of interests.
Above all, be true to yourself and your blog.  Just because one company turns you down doesn't mean there's not a company out there that will be a perfect fit.  As cliché as it sounds, I believe that everything happens for a purpose.  Perhaps a company doesn't have the funds in their budget now, but a good impression today may lead to bigger things in the future!