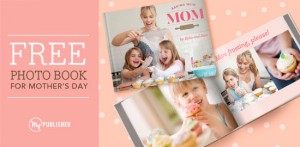 Reminder: This great deal ends tomorrow – did you get your FREE Photo Book to share with mom?
You can celebrate your Mother with a FREE Hardcover Photo Book from MyPublisher! Your FREE photo book is waiting to be made into stories to retell and experiences to relive — but hurry, this promotion ends 5/1. Valid for new customers for one (1) FREE 20-page Photo Finish Pocketbook or get $19.99 off a Classic or Deluxe Photo Book.
Here's how to get your FREE photo book:
Visit MyPublisher and enter your email address
You'll be sent a custom code for your FREE photo book
This promotion ends 5/1.