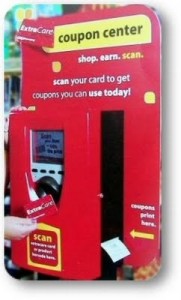 There are some great coupons printing from the Magic Coupon Machine this week.  My favorite is the $5 off Halloween Costumes, Accessories or Decor (One Day Coupon). It's even being reported that you may get more than one if you scan your card daily. This coupon can be used to get lots of FREE Halloween items.
2 pair Halloween Socks for $5
Halloween Make Up Set, $5.99
Halloween Candy Dish, $3.99
Jumping Spider, $0.99
Halloween Teddy Bears
Halloween Tablecloth, $4.99
Halloween Door Mat, $4.99
No Carve Pumpkin Decorating Kit
Halloween Popcorn Tins
Baby's First Halloween Bib
Pumpkin Cup
Orange Outdoor Lights
Pumpkin Shaped Erasers
Carved Pumpkin Fragrance Candle
There are two more CRTs printing that will make great deals this week.
Any Lumene Skin Care, psa $3.99
Get $5 ECBs  wyb $20 (Limit 1)
Get Free Time Freeze Wrinkle Treatment or Mask wyb $15 in Lumene Products CRT
Final price varies
Herbal Essences or Aussie Shampoo, Conditioner or Styler, 2/$6
$1/1 Aussie Product, exp. 10-31-10 (SS 09/12/10)
$1/1 Herbal Essences, exp. 10-31-10 (SS 09/12/10)
$1/2 Aussie or Herbal Essences Hair Care items CRT
$1.50 each after coupons and CRT
Have you gotten different CRTs when you've scanned your card?
Barbara from ClipperGirl's Saving Spot is the Deal Seeking Mom Store Expert for CVS. At ClipperGirl's Saving Spot, she saves her readers time and money by finding rock bottom prices on items that they use every day.