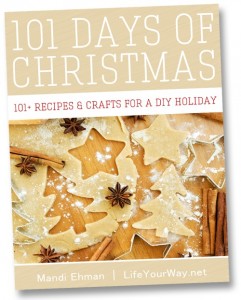 Amazon has some FREE children's reading available as e-Books for your Kindle
. Even if you don't have a Kindle, you can download a FREE app for your computer, BlackBerry, Android, iPhone or iPad.
Today (and tomorrow 9/26 only!) you can enjoy 101 Days of Christmas
for FREE (reg. $3.99).
Drawing from the popular 101 Days of Christmas series at LifeYourWay.net, Mandi Ehman has handpicked the best recipes, crafts and projects from the archives and compiled them into one easy-to-navigate ebook. Whether you're looking for a craft to do with your children, a new cookie recipe to share with your friends and neighbors, or a simple handmade gift to make for someone you love, this ebook includes 101 simple ideas and tutorials!

You'll also find bonus sections with even more ways to make Christmas meaningful for your family and links to dozens of printables to help you get organized for the holidays.
(Thanks, Life Your Way!)