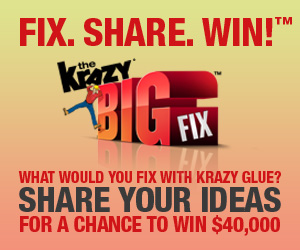 Don't just sit there...Fix something! Krazy Glue is on a mission to collect as many Krazy Glue fixes as possible. Share your best handiwork and you could win great monthly prizes — or even the cash grand prize! The value goes up based on the number of submissions, so be sure to enter every day. Entering is easy:
Fix what's broken in your house with Krazy Glue.
Document your fix in words or pictures.
Submit your fix here or use Twitter or Instagram (include #KrazyBigFix in your post)!
Good luck and happy fixin'!