The following is a guest post from Madame Deals.
Our world is full of technology which is advancing at a rapid rate, and the world of electronic coupons is advancing too!
Do you have an iPod touch or an iPhone? If so, you are in luck! There is a new coupon application called Yowza!!, co-founded by Heroes star Greg Grunberg. Grunberg explains,"I created the app to share my passion for saving money and time, so you could consider this my contribution to the stimulus package! I play a hero on television and now, hopefully, I can be one in real life by helping people during these tough economic times."
Yowza!! is a FREE application that works directly with merchants to provide unique coupons and offers not available anywhere else, all based on your geographic location. Once the application is downloaded, your device will do a search for merchants in your location that work with Yowza!! Now, that is smart technology!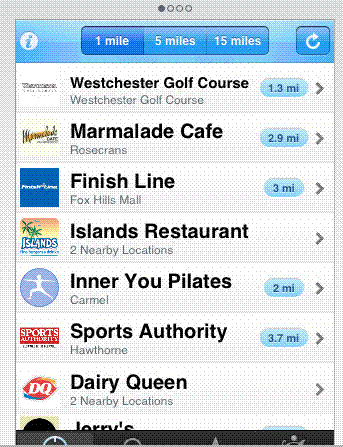 Currently, merchants such as Target, Sears, Finish Line, The Container Store, Sports Authority, Loehmann's, Rubio's Fresh Mexican Grill, Dairy Queen and McDonalds offer discounts with Yowza!! Because Yowza!! is a very new application, they are adding new stores all of the time. The best thing to do would be to download Yowza!! and search for discounts in your location. Going on vacation? Conduct a new search in your destination city.
How Does Yowza!! Work?
When you get to the mall or area that you will be shopping, hit the Yowza!! button on your device.
Yowza!! will search for electronic coupons available in your location.
A barcode will pop-up that can be scanned by the cashier to redeem a coupon.
What if you don't have an iPhone or iPod touch? Yowza!! hopes to develop applications for other Smartphones down the road. For now they are focusing on the iPhone.
Other Electronic Coupons
To find electronic coupons on any other cell phone, try using Cellfire. Like Yowza!!, offers are available right on your phone with no need to print and clip coupons. Participating stores include Hollywood Video, Jiffy Lube and Sears Portrait Studio. There are not as many retail store offers for Cellfire as there are for Yowza!! However, Cellfire is great for loading grocery store coupons right onto your store savings card. Participating grocery stores include Kroger, Vons, Ralphs, Dillon's, Smith's, and Safeway.
Shortcuts is another electronic coupon source for grocery stores. Like Cellfire, you can save coupons to your store savings card. Participating stores include Kroger, Vons, Safeway, Dillons, Ralphs, Fry's, City Market and more.
Things to remember with grocery store e-coupons:
Save your coupons to your store card well in advance of your shopping trip. Although it says that your coupons should be available instantly, I have found it can be several hours.
Print out a list of the coupons you have stored on your card or make a note on your grocery list. No matter how hard I try, I can never remember the details of the coupon (i.e. is it "buy 2" or "buy 1"?).
Electronic coupons expire just like paper coupons. Make sure you update your offers regularly.
Electronic coupons from Cellfire and Shortcuts can only be used once and they will not double.
If your electronic coupon did not come off at the store, contact Cellfire or Shortcuts. They may be able to give you credit on your rewards card.
Madame Deals is a blog dedicated to teaching the everyday person how to effectively save money. Their mission is to look good, feel good and live life all within the "budget". Madame Deals will teach you the basics of couponing, the Rock Bottom Deals for the week, tips for fashion on a budget and other money saving household tips. You can also find articles and tips on raising children from Amee and Renae, who are both teachers. Remember, it is not what you save, but what you spend!